Therm-O-Disc represents innovation in sensor and control development for the appliance, electronic and automotive industries. As the world's leading supplier of controls to the appliance industry, Therm-O-Disc offers a wide array of general and special-purpose products, including NTC Thermistors, Thermistor Probes, Snap Action Thermostats, and Micro Temp Thermal Cutoffs. We do not supply repair or replacement parts to the public, please contact the OEM (original equipment manufacturer) for replacement parts.

NTC Thermistors


Snap Action Bi-Metal Thermostat
See our Video Introduction to 36T BiMetal Switches. See our 36T Bimetal Disc Application Notes.


36T Automatic Reset - Rated at 15 Amps @ 120 VAC, 10 Amps @ 250 VAC
36T21 - Normally Closed - Open On Rise Thermostats
36T22 - Normally Open - Close On Rise Thermostats


60T Manual Reset - Rated for loads up to 25 Amps @ 250 VAC

The snap action of the bimetal disc provides high-speed contact separation resulting in excellent life cycle characteristics at electrical loads up to 25 amps at 240 VAC. The 60T carries global recognition and is used in many major appliance and HVAC applications.
60T15 Normally Closed Open on Rise - Manual Reset
Microtemp Thermal Cutoffs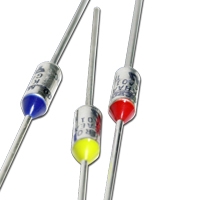 Microtemp Thermal Cutoffs from Therm-O-Disc offer an accurate, reliable solution to the need for upper limit temperature protection. Know as a thermal fuse, thermal link, or TCO, the MICROTEMP thermal cutoff provides protection against overheating by interrupting an electrical circuit when operating temperatures exceed the rated temperature of the cutoff.
The operating principle of the thermal cutoff is a electrically nonconductive pellet that under normal operating temperatures will hold the spring loaded contacts closed. When a predetermined temperature is reached, the pellet melts, allowing the compression spring to relax. The trip then slides the contact away from the lead and the circuit is opened. After the thermal cutoff opens the circuit it must be replaced. These devices are often referred to as "one shot" thermal fuses. All temperatures are in Celsius.

Microtemp® thermal fuses from Therm-O-Disc® are available in a variety of standard and custom configurations, providing reliable one-shot over-temperature protection for a wide variety of applications.

G4A MicroTemp Thermal Cutoffs - Temperature Range 72C to 257C

Ratings: 10A @ 250 VAC, 15A @ 120 VAC

G4A01257C - Highest Holding and Open Temperature on the Market !

G5A MicroTemp Thermal Cutoffs - Temperature Range 72C - 257C

Ratings: 20A @ 250 VAC, 25A @ 120 VAC


G7F MicroTemp Thermal Cutoffs - Temperature Range 77C to 184C
Ratings: 5A @ 250 VAC, 30% smaller than the G4A & G5A Series
---
TESTCO does not provide service parts to the general public. Consequently, to receive an exact replacement part you must contact the Original Equipment Manufacturer (OEM).
Therm-O-Disc is a large manufacturer of bimetal thermostats, thermal fuses, and other devices. The majority of their products are custom made and proprietary for Original Equipment Manufacturers (OEM's). We offer some standard configurations, however, the user must determine the suitability of the control for their application, including the level of reliability required, and are solely responsible for the function of the end-use product. These controls contain exposed electrical components and are not intended to withstand exposure to water or other environmental contaminants which can compromise insulating components. Such exposure may result in insulation breakdown and accompanying localized electrical heating. A control may remain permanently closed or open as a result of exposure to excessive mechanical, electrical, thermal, or environmental conditions or at normal end-of-life. If failure of the control to operate could result in personal injury or property damage, the user should incorporate supplemental system control features to achieve the desired level of reliability and safety.
There are no express warranties that extend beyond the description contained herein. Please review our Terms & Conditions before ordering.
View all Thermodisc parts, Request a Quote, or Contact Us for additional information.